Load bearing Wall Removals
If you require to build an extension, remove an unsightly structure or modify your home to have a large opening floor plan you may need to remove load bearing walls.
Load bearing walls ar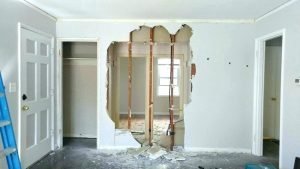 e active part of your properties structural integrity and need to be assessed by a structural engineer before being removed. These walls help support the weight of the building through what may be other walls, floors or roofing elements that can be essential to the properties stability.
Exterior property walls are load bearing and if an extension has been built onto the building already, what may appear to be an internal wall could still be load bearing.
One of our qualified structural engineers would analyse the wall and determine whether or not the wall is load bearing. If the wall needs to be removed the necessary calculations would be conducted and the correct size replacement beam would be designed to ensure the safety and stability of the property.
Do I need a Structural Engineer to Remove a Load Bearing Wall?
Load bearing wall removal requires a structural engineer to design an alternative way to offer support and maintain the buildings integrity. To ensure the weight being carried by the wall is safely re-distributed, the engineer may specify a timber or steel beam, an RSJ or concrete lintel.
Building Control will usually require you to have a structural engineer specify a suitable RSJ, beam or lintel. This should be done before getting quotes from builders to avoid any additional costs later on.
WHY CHOOSE US
DEDICATED TEAM




Small jobs such as a single storey or double storey extension for residential jobs can be delivered in 7 days.
GUARANTEED SATSIFACTION




Medium to large size projects which may include basement designs, new build or jobs that require significant structural input can be completed in 1-4 weeks.
FREE ESTIMATE




Contact us for a completely free estimate of costs with no hidden extras.
We are fully qualified and certified Structural engineers offering the very best cost-effective solutions. Providing affordable services with safety and quality at the forefront of our designs.
Please feel free to get in touch
Same day response with fast turnaround servicing commercial & domestic design and assess structures to ensure they are efficient and stable.
Email [email protected]