In situ concrete slab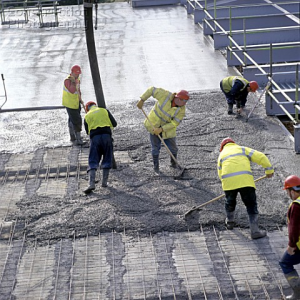 When the ground conditions are poor, a normal ground bearing slab is unsuitable. The floor slab may crack due to large settlement; an option is to use either concrete 'beam and block floor' or a suspended timber.  
However, it is also possible to construct a ground bearing floor, which is designed to span over the poor ground. Generally speaking, these is the cheapest solution and often favored by builders.
We may resort to either of these two depends on the ground conditions as their designs are the same.  The main difference is that the suspended slab is cast on form-work, whereas the ground floor slab is normally cast on the ground.
Our structural calculations for an in situ concrete slab design will include either a one or two way spanning slab, depending on the layout of the building. Two way spanning slabs is more economical, but the prime choice of which slab to use is determined by the number of supporting walls.
We need the architectural layouts for a concrete slab design.
All of our designs are customized according to country Code e.g. British Standard , Eurocode, ACI etc.
Please feel free to get in touch
Same day response with fast turnaround servicing commercial & domestic design and assess structures to ensure they are efficient and stable.
Phone  +447885516202
Email   [email protected]